22 Eylül 2019 Pazar Saat 12:32
Desthiladariya faşist a AKP-MHP bi taybetî di çend salên dawî de her çiqas êrîşên li ser gelan, muxalifan û hwd zêde dike, ewqas jî bela wela dibe.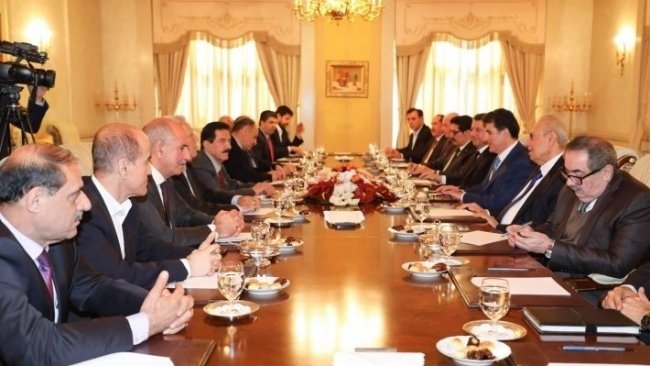 0
21
TR
:" "
:""
" ",
:" "
Gelo ev aqilmendê vê
desthiladariyê çi dikin? Kes tune bibêje 'vaye her çiqas êrîş dikin em qels
dibin'. An jî gelo bi zanebûn ya Erdogan bi tunebûnê ve dibin? Lê dema
hevpeymana hêzên emperyal û aqilê dewleta tirk a kur dinêrin anîna AKP û
Erdogan a ser desthiladariyê li ser esasê tunekirina Kurd hatiye danîn. Lewra
AKP-MHP û Erdogan ji bo dema desthilatdariya xwe dirêj bikin vê hevpeymanî
dixwazin bizivrînin aliyê xwe.
Lê binêrin, di demên dawî de
ligel xiracira siyasetê ye, toz û duman radibe, hêj jî li ser vê aqilî û hesabî
tevgerandin heye. Derbeya dagirkirinê (kayyim) ya şaredariyan, di serî de li
ser HDP'ê êrîş li ser hemû aliyên muxalif, di nava AKP'ê de şerê pêlên
desthiladariyê ya kur dibe, hevsengiyên ku di Sûriyê de dixwazin ava bikin,
gefên êrîşê ya li ser Rojava, êrîşên li ser Başûrê Kurdistan û kaosa nikarin jê
derkevin… Diyar e Rojhilata Navîn di nava çend mehên pêş de ji pêşketinên
qrîtîk û cidî re vekirî ye. 
Bêguman pêşketinên diqewimin wisa
ne ji rêzê ne. Derbarê van pêşketinên girîng û qrîtîk de hem nîşaneyên ciddî
diyar dibin hem jî ji aliyê hin destan ve bingeha wê tê amadekirin. Ji bo
Tirkiyê meha cotmehê û ji bo Rojhilata Navîn jî bi pêşketinên li Tirkiyê
biqewime ve girêdayî çend mehên din dê girîng be.
Ji bo Tirkiyê bi vekirina meclîsê
re paketa darazê ku wê bê rojevê, derbarê siyaseta Kurd a di parlementoyê de ku
dê hewil bidin tasfiye bikin wek pêşketinên girîng dê rojevê meşgul bike û
gelek meseleyên din jî bi xwe re kaş bike. Bi van re hemwext jî îhtîmala ku dê
desthiladariya faşist AKP-MHP li ser Rojava kambaxiyekê bike her roja diçe zêde
dibe. Di vê mijarî de ku dê dawiya meha îlonê de Lîjneya Giştî ya Neteweyên
Yekbûyî (NY) û di serî de hevdîtinên rû bi rû ya Erdogan û Trump û tawîzên ji
hev bigirin dê diyarker be. Herî dawî lutkeya 3'yî ya li Çankayayê – kî di
esasê xwe de Esad bi awayek girtî tevlî bû, lutkeya 4'î – derket holê ku Îran û
Rûsya, ya dewleta tirk a faşist li dijî Kurdan sor kirin û xwestin bikşînin
nava planeke wisa.  Her du welat û
hevkarên wan Esad, ji bazariya Erdogan a "Beranberê İdlibê herêma Kurd ji duh
ve razî ne. 
Lê plana li ser masê tê kirin di qadê de ewqas ne hêsan e
Ev plan û bazariya li ser masê
tên kirin li gor rastiya di qadê de wê di çi astî de bimeşe ew ne diyar e. Dema
mirov li gelek plansazî û pêşketinên berê yên navneteweyî û heremî dinêre,
planên ku li ser masê tên amadekirin di qadan de ewqas bi hêsanî nameşe. Ji ber
ku her hêz dema îtîfaqek an jî hevpeymanek datînin, neçarin hesaba 'ez ê ji vê
plansaziyê tawîzek cudatir çiqas dikarim bigirim' bikin. Mînak rejîma Sûriyê û
mutefikên wê dema di lûtkeya Çankaya de li ser maseyê hin bazariyê dikin,
hesabekê din jî kirine. Rejîma Sûriye û mutefîkên wê ku hewil didin Rojavayê bi
destê Erdogan tasfiye bikin, di heman wextî de jî hesaba dê ya dewleta tirk
çewa Sûriyê derbixin dikin. Her kes jî dizane ku ne ji bo rejîma Sûriye û ne jî
hêzêndîtir êdî Rojava wisa ne gepek hêsan e. Ji ber ku li holê têkoşîneke azadî
û mafê 50 milyon civakek heye û ceribandina 100 salî îspat kiriye ku bi zor û
zexta sîlehê dê nikaribin vê daxwazî ji holê rabikin, berovajê wê pirsgirêkê
kûrtir dike. 
Aqilê tasviyeyê…
Bêguman aqilê tasviyeyê li gor
xwe diyalektîkek xwe heye. Her çiqas ev diyalektîka tunehesibandinê pirsgirêkê
kûrtir bike jî, ji derveyê êrîşkirin, zêdetir êrîşkirin, înkarkirin, tunekirinê
rêyeke din nabîne. Aqilê vê desthiladariyê ji ber înkara Kurd wek e sedema
hebûna xwe dibîne, tehamûla wan ji tiştekê herî biçûk, ji peyvekê ku Kurd di
nav de derbas dibe re tune ye. Mînak MHP ji ber di pirtûka dersa pola 9'emîn a
Seretayiyê de  peyva 'Kurd' dîtiye dîn û
har bûye, weke gayê ku paça sor dîbîne êrîşê hawirdorê dike. Jixwe êdî ya MHP û
AKP wek e du partiyên cuda dîtin tu wateya xwe nemaye. Her du partî jî li ser
tunekirina Kurdan polîtîkayê dimeşînin û têkiliya li ser vê dijbertiya Kurd de
di nava hev de heliyane û êdî li holê AK-MHP heye. Ev nayê wê wateyê ku MHP
paqij derdixe, ev nîşaneya her du partî jî pîr û pak zivirîne MHP'ê. Lewma
Sekreterê Giştî ya MHP'ê di pirtûkê de peyva Kurd derbas kirin wek e "Îfadeya
di metnê de ku Kurdan berî Tirkan mislimantiyê qebûl kirine, tê wateya ku
dîroka Kurdan bi dîroka Tirkan re xistine pêşbirkê ev jî nîyeteke xirab e.
Dixwazin hişmendiya ku xwediyê erdnigariya El-Cezîre (Herêma Anatoliya Başûr Rojhilat)
Kurd in, berî Tirkan Kurd hatine vê erdnigariyê bidin avakirin. Ev bertek û
nêrîn ya Îslahata Şarq e û ev nêrîn nêrîna hevpar a her du partiyan e. Dîroka
înkarê ya sed salî xwe di her merc û firsendî de çêdike û xwe digihîjîne her
dînamîka desthiladariya nû. 
Li vir di hedefê de bêguman her
tim destpêkê Kurd in. Lê di heman demî de yê herî zêde tên lêdan, heqaret,
dixin hedefê di şexsê Kurdan de hemû dînamîkên ku Tirkiyeyê çêkirine. Înkara
Kurd ku ya Tirkiyeyê xistiye halê qrîzê û kur dike bi vê pêkhateyî ve girêdayî
ye. Yên bi înkara Kurd re heye û hêz bi dest dixe di heman demî de bi înkara
Kurd re jî tune dibe. Di salên 90'an de çavkaniya hêza Çîller û hevalbendên wê
şerê qirêj a li dijî Kurdan bû û yê dawiya wê anî jî dîsa ev şerê qirêj bû. AKP
jî niha heman vegera wê dîrokê dijî. Îro belavbûna AKP, tasfiyeya nava partiyê
û şerê desthiladariyê ya navxweyî çêdibin halê vê ya şênber e. Îro êrîşên
pelîkan a Wezîrê Dadê Abdulhamît Gul hedef digirin, pêvçûna ku dê kîjan ekîba
di nava AKP'ê de li ser darazê hakim bibe ye. Hikumet ku di doza Selahattîn
Demîrtaş a Dadgeha Mafê Mirovan a Ewropa (DMME) de parastina "Li Tirkiyeyê
darizandina bêalî û serbûxwe heye dikir, di van seatan de jî li Enqere pêvçûna
"Dê Daraz li gel min be an jî li gel te be pêk dihat. Êdî ne di nava du an jî
çend partiyan de, eger di nava ekîbên partiya desthiladar de şerê bidestxistina
darazê li pêşberê rayagiştî bi awayek vekirî bê kirin, xefletek mezin derdixîne
holê. 
Bêguman desthiladariya faşist
nêzî dawiyê ku bi destê xwe ava kiriye ve diçe. Lê her bi dawiyê ve diçe dibêje
'madem wisa piştî min bila toz duman, bahoz be û welat û heremê dikşîne nava
agirê. Sedema hem darbeya dagirkirinê (kayim) û rêkirina malbatan a ber deriyê
HDP'ê, gefên li hemberê Kurdan çavkaniya xwe jê digire.
Ji Edîtorya
0
21
TR
KO
:" "
:""
" ",
0
21
TR
KO
:" "
:""
" ",
Navenda Lêkolînên Stratejîk a Kurdistanê
www.lekolin.com – www.lekolin.org – www.lekolin.net –
www.lekolin.info -www.navendalekolin.com -http://kursam.org/index.html-
http://kursam.net/index.html
Navenda Lêkolînên Stratejîk a Kurdistanê